Septic Maintenance B & P Environmental
Septic Maintenance in the Greater DMV Area
Seasoned Septic Maintenance Specialists Serving the Greater DMV Area
Just like you regularly service your car to keep it running smoothly, your septic system also requires routine checks and maintenance to ensure it is functioning optimally. Investing in regular maintenance is a proactive choice that can help you save money by avoiding costly repairs down the road. Routine maintenance will also extend the life of your septic system, saving you the cost and hassle of premature system replacement. An ounce of prevention is worth a pound of cure!
At B&P Environmental, we first made our name pumping residential septic tanks, and while our business has grown, we are still dedicated to helping you keep your septic system in top shape. We offer comprehensive septic maintenance in Anne Arundel that is tailored to the specific needs of your residential or commercial property. Our team of experienced specialists is equipped with the knowledge and tools to conduct thorough checks on your system, identify potential issues before they turn into major problems, and provide effective solutions. With us, one call does it all, so if your tank needs pumping, we have you covered.
Our technicians are available around the clock, so contact us online or call (443) 292-9259 to request a maintenance visit today! We offer free estimates.

Why Choose B & P Environmental?
Experienced Service Provider

We have over 400 years of experience combined with all of our employees. There's nothing we haven't seen in this industry.

24/7 Scheduling Availability

Days, nights, weekends, national holidays—we're always available online to book your service.

Self-Service Online Scheduling

Our technicians can enhance service with all of the capabilities of our online portal.

Multiple Service Offerings

Our services range from liquid waste management to drain services and beyond.

Trusted by The U.S. Government

Authorized to work on government, military and all other federal installations.
The Importance of Regular Septic Maintenance
Neglecting regular septic maintenance can lead to a variety of problems. The most immediate and apparent issue is system failure. When your septic system fails, it cannot effectively process and break down the waste that enters it. As a result, you may experience frequent backups and overflows, which are both inconvenient and unsanitary. Your toilets may flush slower or not at all, and drains in your sinks and showers may become clogged. The aftermath of a system failure is a stressful and chaotic situation that typically requires immediate attention, often at a high cost.
In addition to the inconvenience and cost associated with system failure, there are serious health and environmental consequences to putting off septic maintenance. A faulty septic system can contaminate the surrounding soil and water with untreated waste and harmful bacteria. This can not only harm your property's landscape but also pose an immediate risk to the health of anyone who comes into contact with the contaminated water or soil. It can also pollute nearby water sources, potentially resulting in far-reaching environmental damage.
Putting off maintenance can significantly reduce the lifespan of the septic system. As a result, you may find yourself having to bear the hefty cost of completely replacing the system long before it would typically need replacement with regular maintenance – typically 30 years or more.
Put simply, the consequences of ignoring septic maintenance can be far-reaching and damaging – both to your wallet and the environment. It's far more practical and cost-effective to invest in regular maintenance in the Greater DMV Area and enjoy the benefits of a well-functioning, long-lasting septic system.
Hear from Happy Customers:
"Give the team at B&P Environmental a call!"

They have earned our respect and our business! Your search for a septic service company is over!

- Joshua T.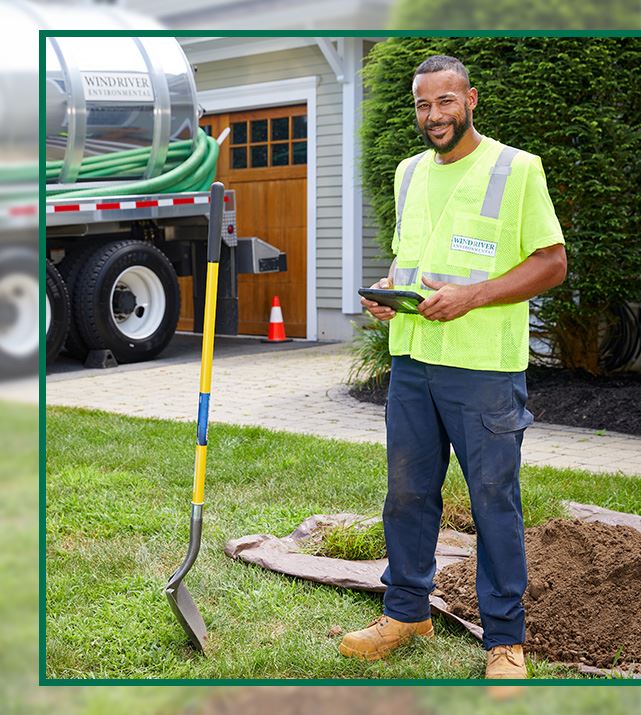 How Often Does My Septic System Need Maintenance?
The frequency of septic system maintenance can vary greatly depending on several factors. We usually recommend that homeowners and business owners get their septic systems inspected at least once every two years by a septic service professional. Regular maintenance will allow potential issues to be identified and addressed before they escalate into more serious problems.
In some cases, your septic system may need more frequent maintenance. If your property has a high water table or experiences heavy rainfall, your system may be at risk of flooding, which can cause it to fail. These systems may need more frequent inspections and possible adjustments. Also, if your system includes electrical or mechanical components, such as pumps or float switches, these parts may need to be inspected annually. We are happy to take a thorough look at your septic system and recommend a schedule.
The septic tank itself should be pumped every two to five years, but the specific frequency can depend on the size of the tank, the amount of wastewater generated by your household or business, and the volume of solids in the wastewater. For example, a larger family might need to pump their tank more frequently due to the higher volume of wastewater.
It is important to remember that regular maintenance of your septic system is not just about adhering to a schedule. It is also about observing the system and being aware of any warning signs of malfunction, such as slow drains, unpleasant odors, or water pooling on the surface of the drain field. If any of these warning signs appear, you should immediately call our specialists to assess the situation.
What Does Septic Maintenance Entail?
Septic maintenance involves a series of checks and actions to ensure the optimal functioning of your septic system. One of the main tasks is regular septic tank pumping, which helps remove sludge and scum layers that accumulate over time, preventing them from overflowing into the drain field. It also includes inspecting and servicing the mechanical parts of the system, including the pumps, floats, and filters, each of which can wear out or become clogged.
Our experts will also typically assess your drain field to look for any signs of failure or saturation. This step can be crucial, as the drain field plays a key role in treating wastewater. If any damp spots, lush vegetation, or unpleasant odors are detected in the area, it could indicate a problem. Other tasks we will complete include checking the tank baffles and tees, the tank's lid, and the manhole cover to ensure they are secure and in good shape.
Septic maintenance should always be carried out by a licensed professional to ensure that it is done properly and safely. Our specialists have the necessary training and tools to handle the job and can provide valuable advice on how to maintain your system between visits.
When you need septic maintenance in the Greater DMV Area, call (443) 292-9259 or contact us online!