Septic Inspections B & P Environmental
Septic Tank Inspections in the Greater DMV Area
Trusted Septic Inspection Specialists Serving the Greater DMV Area
Maintaining the health of your septic system is crucial for the well-being of your property and the environment. Regular inspections can prevent disastrous and costly issues before they happen. They ensure that your system is working efficiently, prolong its lifespan, and protect your property's value. Whether you are a homeowner or a businessowner, consistent professional inspections are a small investment that can reap significant rewards.
When you need a septic inspection in the Greater DMV Area, one call does it all. B&P Environmental is made up of experienced professionals who are equipped with advanced technology to perform comprehensive inspections, ensuring the health and longevity of the septic system on your residential or commercial property. Our company was founded on pumping septic tanks, and we are known for our superior service, expertise, and commitment to customer satisfaction. Our technicians adhere strictly to local and state regulations, providing detailed inspection reports for your peace of mind. No matter the location or size, we are ready to complete a prompt, thorough inspection and provide practical, cost-effective solutions should we discover any issues.
We are available 24 hours a day, 7 days a week, so do not hesitate to schedule service if your system is overdue for an inspection. Call (443) 292-9259 or contact us online today!

Why Choose B & P Environmental?
Experienced Service Provider

We have over 400 years of experience combined with all of our employees. There's nothing we haven't seen in this industry.

24/7 Scheduling Availability

Days, nights, weekends, national holidays—we're always available online to book your service.

Self-Service Online Scheduling

Our technicians can enhance service with all of the capabilities of our online portal.

Multiple Service Offerings

Our services range from liquid waste management to drain services and beyond.

Trusted by The U.S. Government

Authorized to work on government, military and all other federal installations.
Why Does My Septic System Need Regular Inspections?
Regular inspections of your septic system are essential for several reasons. First and foremost, they help identify potential issues before they turn into significant, costly problems. Septic system issues can range from blocked pipes to complete system failure, which can result in expensive repairs and possible environmental damage.
Routine inspections also ensure that your system is functioning efficiently. Over time, the tank can fill with solids if not pumped out regularly, reducing its capacity and efficiency. An inspection will measure the levels of scum and sludge in your tank, determining when it is time for a pump-out.
Additionally, septic system inspections protect your property and the environment. A failing septic system can cause wastewater to surface on your property or back up into your home, posing serious health risks and causing property damage. By investing in regular septic inspections, you can prevent such problems and preserve your property's value. That is also why regular inspections contribute to environmental conservation. A malfunctioning septic system can leak waste into the surrounding soil and water sources, causing pollution. By keeping your system in good working order through regular inspections, you play your part in protecting the environment.
Scheduling septic inspections in the Greater DMV Area to save money in the long run, obtain peace of mind, and ensure the health and safety of your property. Our team is happy to make the inspection process as simple and convenient as possible.
Hear from Happy Customers:
"Give the team at B&P Environmental a call!"

They have earned our respect and our business! Your search for a septic service company is over!

- Joshua T.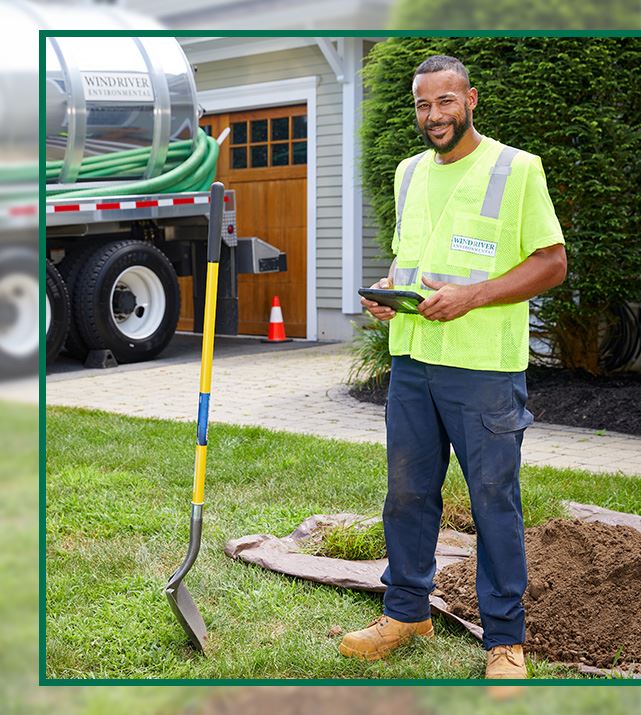 How Often Does My Septic System Need a Professional Inspection?
Septic system inspection frequency can depend on various factors, including the age of the system, the number of residents in the property, and the amount and type of waste put into the system. As a general rule, however, we generally recommend that septic systems should be professionally inspected at least once every two years. For more complex systems with electrical float switches, pumps, or mechanical components, inspections might be needed on an annual basis.
The size of the septic tank is also a significant determinant. Larger tanks can accommodate a higher volume of waste, which means they may not need to be inspected as frequently. Conversely, smaller tanks or those servicing properties with a high occupancy rate might require more frequent inspections.
Remember, these are just guidelines. Each septic system is unique and may require personalized inspection schedules. At B&P Environmental, we offer consultations to assess your specific needs and establish an inspection routine that will keep your septic system in optimum health. Regular inspections not only help in identifying potential issues early but also contribute to extending the lifespan of your septic system.
What Does a Septic System Inspection Entail?
Our septic inspections in the Greater DMV Area are thorough and involve examining all components of the system to ensure optimal functioning. Our expert technicians start by assessing the overall condition of the system and looking for signs of wear and tear that could indicate potential problems. This includes checking the tank and drain field as well as looking for leaks, blockages, or unusual odors that could suggest a system malfunction. If you have already been dealing with specific issues, we will focus on areas of concern and diagnose the problem.
Next, we measure the levels of scum and sludge in the tank to determine if it is time for a pump-out. The thickness of these layers can tell us a lot about the system's health—thick layers can indicate a need for more frequent pumping. The inspection also includes testing the tank's baffles and tees, as these are crucial for preventing solids from entering the drain field and causing damage.
Finally, we inspect the drain field itself. We look for signs of saturation, like standing water or overly lush grass, which might mean the field is not absorbing waste properly. When necessary, we may even use advanced technology, like camera inspections or hydraulic load tests, to get a more detailed look at the system.
At the end of an inspection, we provide a detailed report outlining our findings and any recommendations for maintenance or repairs. We handle all things septic, so we can assist with pumping or maintenance your system requires.
Not sure when your septic system was last inspected? We offer free estimates, so call (443) 292-9259 or contact us online to request service today!