Drain Cleaning B & P Environmental
Greater DMV Drain Cleaning Services
Commercial buildings, shopping plazas, and other large developments are placing a heavy strain on the drain and sewer system that services it. Due to a heavy load on the drainage systems, they often develop issues such as clogs, breaks, pipe separations, or bellies which can develop into a larger problem that affects an entire building. Improper disposal of FOGs (fats, oils, and grease) will also cause a build-up of grease and fats in drain lines, contributing or causing blockages. Over time, this build-up will cause complete blockage and drain lines will stop passing wastewater through. A back up will occur and sinks, restrooms, floor drains, and grease traps will overflow – costly water damage can occur as a result of this. Sewer and drain cleaning services, as a preventative measure, is the best way to make sure your system remains in peak condition.
---
One call does it all, so dial (443) 292-9259 or contact us online to request a free site visit and estimate!
---
What Is Drain Cleaning and Hydro Jetting?
Drain line cleaning and/or hydro jetting is a process where the drain line is internally cleaned using a mechanical cleaning auger device known as a "snake", via a flex shaft system that is based on the principles of centrifugal force, or a high-pressure water cleaning device known as a hydro jet.
The snake will travel through the pipe while rotating and thus cleaning the inside of the pipe or cleaning out a blockage in the pipe caused by FOG's, food waste, paper towels, or other foreign objects. The snake is typically used for smaller bore, interior drain pipes, and where one needs to travel through a larger p-trap or similar obstacle.
The hydro jet is one of the most effective forms of drain cleaning services. Hydro jet machines send pressurized water, up to 4,000 PSI, through special nozzles at the end of the hose. The nozzle propels itself down the sewer line and power washes, or hydro jets, the inside of the pipe, and flushes the debris out of the line at the same time. Hydro jetting is highly effective at removing grease, sand, silt, and other physical accumulations. Various types of nozzle heads can be used for different applications and blockage. These include root cutters, chisel nozzles, warthog spinning nozzles, and many more. Hydro jetting has the power to burst open the toughest blockages and at the same time scours the full diameter of the pipe, flushing debris downstream and leaving sewer lines clear. There is no better way to get your pipes draining as well as the day they were installed, short of replacing them completely. A hydro jet is typically equipped with long high pressure hydro jetting hose to run distances up to 400 feet, but B&P Environmental has performed hydro jetting drain cleaning services at up to 750-foot distances.
Another tool used for drain cleaning services is the flex shaft drain cleaners. Flex shaft machines quickly and efficiently deliver wall-to-wall clean in 1 ¼" to 6″ residential and commercial pipes up to 125′ in length. These machines rapidly spin powerful chain knockers that are designed to use centrifugal forces to expand to the size of the pipe in order to quickly clear the entire circumference. Short of hydro jetting, flex shaft drain cleaning systems are the best tool to effectively clean and scour the pipe walls to a like-new surface. When hydro jetting is not practical due to location, flex shaft drain cleaning services are the next best solution. Flex shaft machines can be equipped with a wide variety of spinning accessories in order to tackle grease, soft blockages, scale, tree roots, and more. Running flex shaft machines down old cast iron pipes can rapidly and effectively knock all scale off the pipe, resurfacing the lines to a like-new condition to alleviate chronic blockages. B&P Environmental chases down the flex shaft with a sewer camera to pinpoint and target specific problem areas within the lines.

Why Choose B & P Environmental?
Experienced Service Provider

We have over 400 years of experience combined with all of our employees. There's nothing we haven't seen in this industry.

24/7 Scheduling Availability

Days, nights, weekends, national holidays—we're always available online to book your service.

Self-Service Online Scheduling

Our technicians can enhance service with all of the capabilities of our online portal.

Multiple Service Offerings

Our services range from liquid waste management to drain services and beyond.

Trusted by The U.S. Government

Authorized to work on government, military and all other federal installations.
Why Call B&P Environmental For Your Preventative Maintenance And Emergency Drain Cleaning Needs?
B&P Environmental has all the equipment and experience needed to resolve your issues fast and efficiently. Oftentimes, a drain cleaning problem may escalate into requiring pump trucks, camera equipment, or larger industrial vacuum units. Companies who do not have this equipment must either turn down the work (wasting time) or subcontract the equipment costs (raising job costs). For an operating location, time is money. Make the call to the crew who can get the job done right, on time, and at a reasonable cost. We take calls 24/7 and take pride in making sure our customers get a resolution to their problems. B&P Environmental has an extensive network of industry contacts, if we cannot help you, we will always find someone who can help. This is our commitment to providing the best drain cleaning services possible.
---
One call does it all, so dial (443) 292-9259 or contact us online to request a free site visit and estimate!
Hear from Happy Customers:
"Give the team at B&P Environmental a call!"

They have earned our respect and our business! Your search for a septic service company is over!

- Joshua T.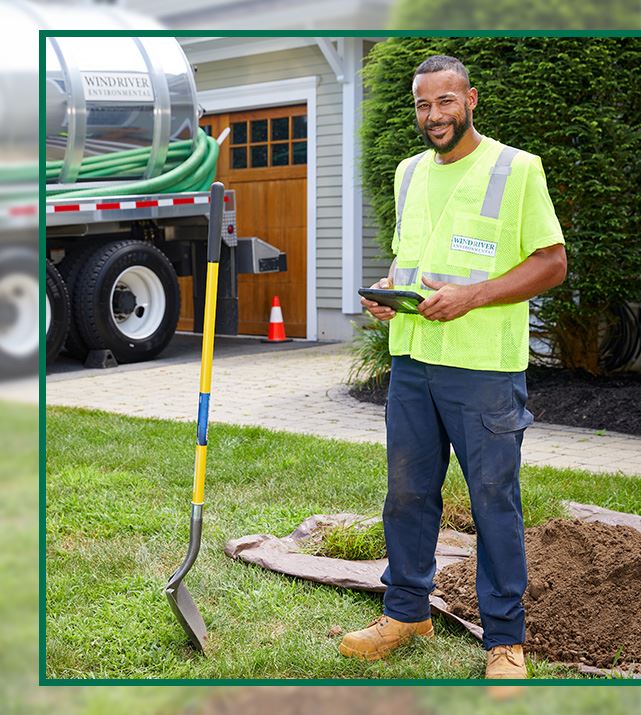 When Do I Need Drain Cleaning Services?
Preventative drain cleaning services are a powerful tool for owners and operators to prevent costly sewer line backups. B&P Environmental highly recommends that drain cleaning services are performed on a regular basis via hydro jetting, drain snaking, or with a flex shaft machine. We prefer to set up a site visit in most cases and put together a comprehensive maintenance plan to suit the customer's needs. Conditions such as the volume of water used, the age of the building, the type of establishment, and the history of the location are all considered when putting together a plan. An effective maintenance plan will help keep your lines clean and minimize the risk for costly overflows requiring emergency service, business disruption, and property cleanup and restoration.
B&P Environmental can put you on a preventive maintenance program with regular service intervals of your stormwater lines, sewage lines, drain lines, floor drains, and grease traps. While hydro jetting your drain lines, we can also hydro jet and power wash your outdoor grease trap or grease interceptor. Our fleet is equipped with hydro jets from ¼ inch at 1,750 PSI and 2.5 gallons per minute, up to one inch, 3,000 PSI, and 80 gallons per minute. Our snakes range from simple handheld cable machines to clean small obstructions, up to cable machines turning one-inch cables that require a crew to operate the system, and everything in between.