Septic Services B & P Environmental
Septic Services in the Greater DMV Area
Experienced Septic Specialists Serving the Greater DMV Area
The complexity of your septic systems demands a skillful and experienced hand that only a seasoned specialist can provide. When septic issues arise, you need a reliable team of professionals who can get to you quickly and address the problem effectively.
B&P Environmental has been pumping residential septic tanks since 1985. Though our company has grown considerably since then, our specialists are happy to continue offering residential and commercial customers superior septic services in the Greater DMV Area. No matter the size of your tank or where it is located, we have the people, equipment, and drive to handle everything your system needs, from inspections to maintenance to pumping. One call really does it all, so partner with our seasoned team for all your septic system needs.
Our specialists are available 24/7, so do not wait to call (443) 292-9259 or contact us online if your septic system needs attention. We offer free estimates!
How Does My Septic System Work?
A septic system is a critical component of any rural or suburban property lacking connection to a central sewer system. This self-contained system uses a combination of nature and proven technology to treat wastewater that travels from your property's plumbing, including your bathrooms, kitchen, and laundry room.
The process begins with wastewater flowing out of your property into the septic tank, where it is held while it settles. Your septic tank is typically constructed from concrete, fiberglass, or polyethylene. The heavy solids settle at the bottom, creating sludge, while the lighter fats, oils, and greases float to the top, forming scum. The liquid wastewater then flows from the tank into the drain field, where it is further treated by the soil. Here, harmful bacteria, viruses, and nutrients present in the wastewater are naturally removed.
Through this process, your septic system acts as a personal, on-site sewage facility, effectively treating waste and returning it to the environment in a safe manner. Maintaining your septic system involves regular pumping of the septic tank to remove the sludge and scum, which, if left unchecked, can build up and cause the system to fail. This is where B&P Environmental comes in, providing comprehensive support designed to keep your system operating at peak efficiency.

Why Choose B & P Environmental?
Experienced Service Provider

We have over 400 years of experience combined with all of our employees. There's nothing we haven't seen in this industry.

24/7 Scheduling Availability

Days, nights, weekends, national holidays—we're always available online to book your service.

Self-Service Online Scheduling

Our technicians can enhance service with all of the capabilities of our online portal.

Multiple Service Offerings

Our services range from liquid waste management to drain services and beyond.

Trusted by The U.S. Government

Authorized to work on government, military and all other federal installations.
What We Do
Our team of seasoned specialists is ready to meet all of your septic needs. We understand the importance of a well-functioning septic system for the health and safety of your home or business, and we pride ourselves on our prompt, reliable, and professional service.
Our septic services in the Greater DMV Area include expert assistance with:
Inspections. The importance of professional septic inspections cannot be overstated, as these checkups ensure your system is operating efficiently and effectively. The goal of an inspection is to identify any potential problems before they escalate into costly repairs or system failures. This includes assessing the level of scum and sludge in your tank, checking for leaks, and examining the structural integrity of the system, among other things. We leverage our extensive experience and state-of-the-art equipment to provide thorough and reliable septic system inspections. Our team meticulously examines each component of your septic system, identifying any issues and devising effective solutions to address them. Additionally, we provide comprehensive reports of our findings to keep you informed about the condition of your septic system.
Maintenance. We offer a robust septic maintenance service designed to keep your system running smoothly and efficiently. Regular maintenance begins with routine inspections to identify any potential issues or abnormalities. Our team of skilled professionals uses advanced technology to inspect each component of your septic system, checking for blockages, leaks, and other potential problems that could impair its operation. Another integral part of our maintenance service is the upkeep of your drain field. This involves examining the area for signs of trouble, such as soggy ground or unpleasant odors, and taking corrective measures as needed. We also offer advice on proper usage and care to prevent overloading the system or damaging the drain field. Furthermore, we believe that education is an essential part of maintenance. That is why we take the time to explain to our clients how their system works and what steps they can take to maintain its efficiency.
Pumping. Septic pumping involves the removal of the sludge and scum that accumulate in your tank over time. If these substances are allowed to build up, they can cause your system to clog or even fail completely. To prevent such scenarios, our team of professionals ensures that your tank is pumped out at appropriate intervals, depending on the size of your tank and the volume of wastewater your household generates. We employ high-powered vacuum trucks to effectively remove the accumulated waste in your tank. Post-pumping, we dispose of the waste at a licensed processing facility, adhering to all local and environmental regulations. Our technicians understand that septic pumping can be a messy task. With B&P Environmental, you can expect a clean and respectful service – our team ensures minimal disruption to your property and leaves the site as tidy as it was before the service.
Hear from Happy Customers:
"Give the team at B&P Environmental a call!"

They have earned our respect and our business! Your search for a septic service company is over!

- Joshua T.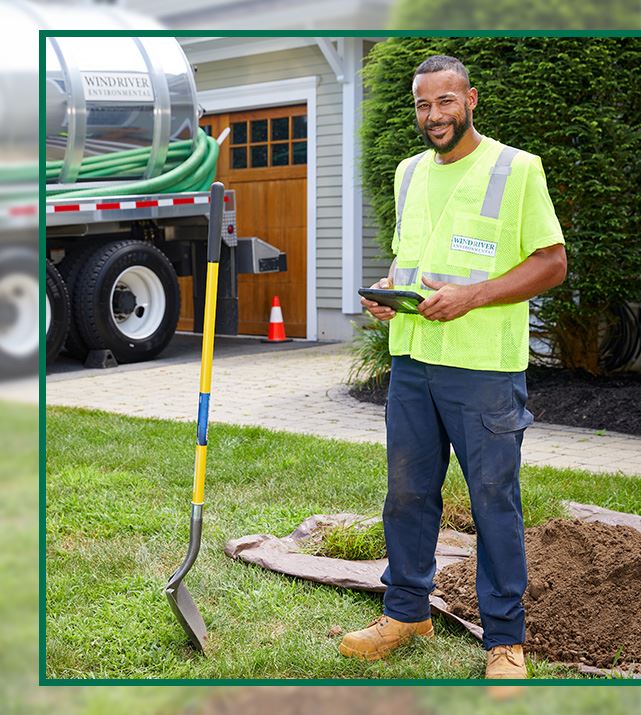 Signs of Septic System Problems
No one wants to deal with a septic system failure, which will cause immediate and serious problems. One of the most immediate effects is the potential for raw sewage to back up into your home, leading to unpleasant odors and significant cleanup costs. Overflows can also result in sewage pooling on your property, creating hazardous conditions and potential health risks due to the exposure to harmful bacteria and pathogens. The financial implications can also be severe. Depending on the extent of the failure, remediation could involve expensive repairs or even complete system replacement.
Regular maintenance and inspections can help you prevent system failure and avoid these and other consequences. There are also certain warning signs that indicate your septic system needs prompt professional attention.
Do not wait to request our septic services in the Greater DMV Area if you notice:
Unpleasant odors with no apparent source. If you detect foul smells around your home or property that persist over time, this could indicate your septic system is failing to adequately process waste.
Slow drainage. If sinks, showers, and toilets in your home drain more slowly than usual, this may point to one of several plumbing problems, including a potential blockage in your septic system.
Standing water. Pooled water on your lawn, particularly around the septic tank or drain field area, suggests a serious issue with your septic system.
Lush, green grass around the septic area. Unusually healthy-looking patches of grass around the septic tank or drain field might seem like a positive thing, but it is often a sign of leakage and nutrient seepage from the septic system.
Your septic alarm has activated. Many modern septic systems come equipped with alarms to alert homeowners of potential issues. If your alarm is sounding off, contact our team immediately.
If you have questions or concerns about your septic system, we encourage you to contact us online or call (443) 292-9259 today!